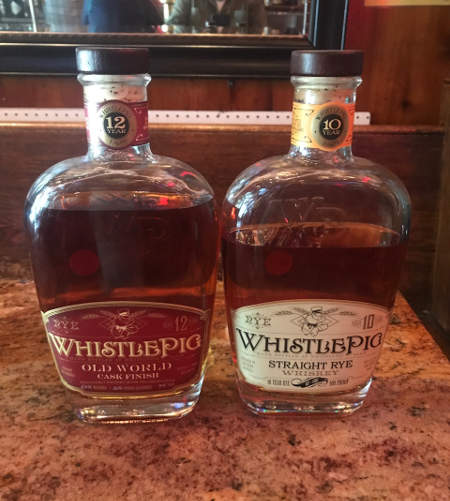 "Quality is never an accident. It is always the result of intelligent effort."
~John Ruskin
We've always been supportive of unique microbrewers, small-batch distillers, locally sourced foods and family-owned companies. As a small-business owner in a very big city, it's our conscious commitment to the kind of pride and craftsmanship that I was raised with and which will always matter to me. Long before major corporations were tossing around 'organic', 'artisanal' and 'eco friendly' as branding buzzwords, principled craftspeople served the public with a promise of civic responsibility, healthy choices and honest dealings. We'll always operate our bars with this assurance, and will continue to work with businesses that pledge the same.
Whistle Pig Rye calls their whiskeys 'farm-to-bottle', and it's a story – and a product – worth sharing. In 2008, Indian-Irish entrepreneur Raj Peter Bhakta bought a 150-year-old dilapidated Vermont dairy farm to grow his own grain, use water from his own well, make oak barrels from his own trees, and distill on-site in his own barn. Teaming with the former Master Distiller for Maker's Mark, the two proceeded to grow, harvest, barrel and bottle their whiskey entirely on the 500-acre spread where Bhakta's family now lives, creating what is one of the leading grain-to-glass single-estate premium rye brands in the world.
Rye whiskey is made from a mash of at least 51% rye grain and aged in charred new oak barrels at a minimum of 80 proof. It's always been a historically American whiskey, made throughout the Northeast since the late 1700s (George Washington distilled rye at his plantation in Mount Vernon). Since rye is a robust grass grain, rye whiskey tastes more full-bodied and less sweet than bourbon (consider the difference between rye bread and corn bread). Whistle Pig Straight Rye is a 100 proof/10-year aged whiskey that introduces itself with a nose of oak, anise and orange peel, leading to a mellow palate of caramel, vanilla and rye spice. Because it's made from 100% rye mash (a rarity) it's got a tremendous amount of character, and because its finished in bourbon barrels it's far smoother than a traditional rye. Their Old World Cask Finish is an 86 proof/12-year aged blend made from 95% rye and finished in Portuguese port wine barrels. The result is a smooth wave of toffee and stewed plums that delivers a peppery rye kick. Either bottle makes for a truly outstanding sip, or perhaps the best Manhattan you've ever had.
Whistle Pig is proof that a small family-owned, locally sourced and quality-committed distillery can follow their vision and make a big impression. Because we think a trio of like-minded Upper West Side bars does, too.
Cheers,
Lee