"For gin, in cruel sober truth, supplies the fuel for flaming youth."
– Noel Coward, Words and Music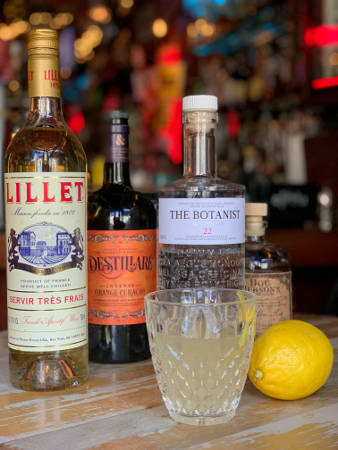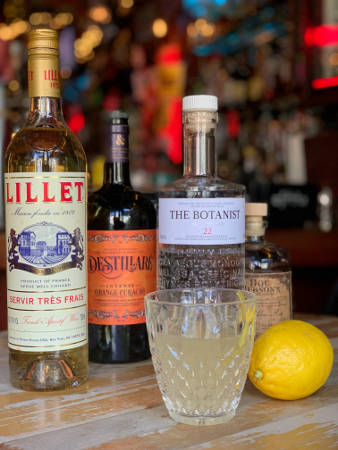 The good news is that the sun is shining, the flowers are blooming and warmer weather is finally here. The even better news is that spring and summer are made for sipping gin cocktails.
Distilled from juniper and flavored with almost unlimited palates of botanicals, gin is the perfect refresher for these warmer months. And with springtime already underway, we're proud to announce that our Dive Bars are ready with a terrific new menu of classic gin drinks featuring our favorite craft gins and premium mixers.
Let's get the history stuff out of the way: The word gin comes the Dutch jenever, derived the Latin juniperus, which makes sense, as all gin is distilled from juniper berries. Gin originated in 17th century Holland, where it was marketed as a medicine to treat gout, lumbago and stomach aches. Over the next century, gin's simple distillation process and affordability almost singlehandedly caused rampant drunken ruin throughout the UK. Feel free to google 'William of Orange', 'The Gin Act of 1736', 'Gin Riots', 'The Gin Act of 1751' blah blah blah 'malaria', 'bathtub gin' and 'vermouth', and you'll be totally up to speed.
Even if you're just summertime Gin & Tonic fan, you know just how refreshing and tasty a classic gin cocktail can be. Consider the Gin Martini (gin & vermouth with a lemon twist), Gin Gimlet (gin, fresh lime juice & simple syrup) or a Negroni (gin, vermouth & Campari). Now imagine what can be done for these classic cocktails with unique craft gins and some skilled mixology. Popular brands like Tanqueray and Bombay Sapphire are top-sellers for good reason, but our personal favorites these days – and the stars of our new gin cocktail menu – are coming from the most surprising places.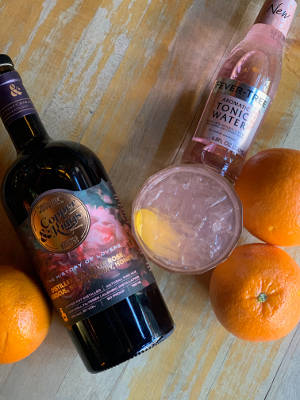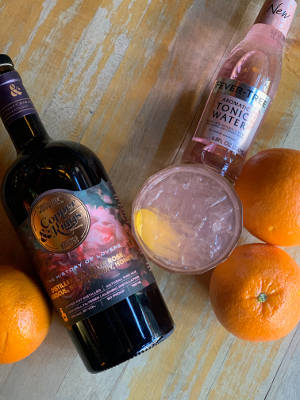 Gin Mare is distilled in Costa Brava, Spain with botanicals that include Spanish olives, Italian basil, Greek rosemary and Turkish thyme for a uniquely Mediterranean flavor. Monkey 47 is a German craft gin distilled from Black Forest juniper, a molasses base and 47 indigenous botanicals (a typical gin contains 6 to 10 botanicals) bringing flavors of lingonberry, spruce and more. The History Of Lovers Rose Gin from American brandy masters Copper & Kings combines juniper, rose hips, rose water and hibiscus with 100% apple wine for a smooth and flavorful pink gin. Distilled in British Columbia, Empress 1908 adapts a famed luxury hotel tea blend complete with pea blossoms that gives the gin a vivid indigo tint. Any of these make for the best gin & tonic you've ever had.
Bar Hill Gin is distilled by Vermont beekeepers using only juniper and raw honey for a taste of afternoon wildflowers that makes a remarkable Negroni. Botanist is a super dry gin from the scotch whiskey mecca of Islay and packed with locally-foraged botanicals that include barks, flowers, roots and bedstr
aw. We're using in our Corpse Reviver, which you absolutely want to try. We're making a classic gimlet with Boxer Gin, a crisp London dry
 gin that explodes with flavor. And Dingle Gin is distilled in Ireland with a clean, light taste that we're loving as the base for our Lavender Martini.
When it comes to mixology, the details matter. And the one detail that makes the most difference – besides a clean glass, you animals – is the quality of your mixer. First, the basics: Club Soda is water that has been charged with carbon dioxide and enhanced with minerals (like potassium sulfate and sodium citrate) for flavor. Seltzer, on the other hand, contains zero additives. Tonic Water is also carbonated water, but with the addition of quinine. But because quinine – found in the bark of cinchona trees and originally used as a treatment for malaria – has a bitter taste, tonic water is often sweetened with sugar or high-fructose corn syrup (it's also why malaria-stricken Brits in colonial India began mixing it with gin. Fun Fact: quinine – and therefore tonic water – glows fluorescent under ultra-violet light). But not all mixers are created equal.
I'm a big fan of Fever Tree, a company that uses 100% naturally sourced global ingredients. Their Club Soda has a subtle citrus and floral flavor, with a highly carbonated champagne-like effervescence. It's exceptionally refreshing on its own, and an outstanding highball mixer, too. Their Ginger Ale blends three different ginger oils with cane sugar for a unique sweet/dry balance that works really well with whisky, while their Ginger Beer makes a terrific Dark & Stormy. Their Bitter Lemon uses hand-pressed Sicilian citrus for a bright, tart mixer that is equally excellent with vodka or gin. But the company is perhaps best known for its four different Tonic Waters – Indian, Elderflower, Mediterranean and Naturally Light – that all begin with quinine from Rwandan/Congolese 'fever trees' (a 17th Century term for the cinchona) and unique botanicals. Any of these four – and their individual flavor profiles are really something to explore and appreciate – will make the very best Gin & Tonic you've ever had.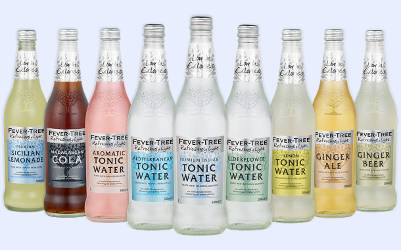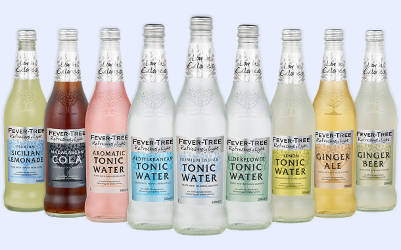 Spring is here, our front windows are open, and you're invited to enjoy sunny afternoons and cool breeze evenings sipping gin with friends in the best bars on the Upper West Side. Ask any of our Dive Bar bartenders or servers for our new cocktail menu and discover everything a great gin drink – and neighborhood bar – should be.  
Cheers,