"I believe – to the best of my recollection, anyway – that I soon made the classic error of moving from margaritas to actual shots of straight tequila. It does make it easier to meet new people."

~Anthony Bourdain
First things first: Cinco De Mayo is NOT 'Mexican Independence Day' but rather the anniversary of the Mexican Army's victory over the French at the Battle of Puebla, on May 5, 1862.
That said, Cinco De Mayo is best celebrated with tequila.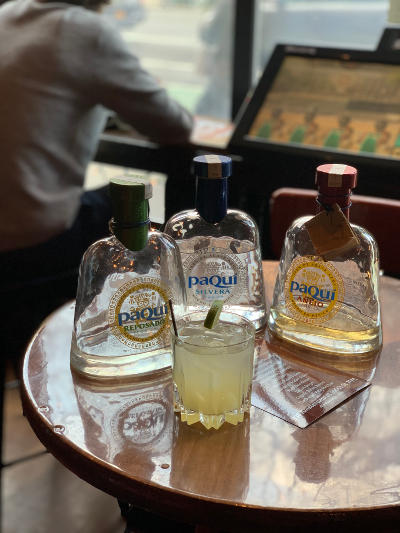 I've written about tequila before – here and here – because I really enjoy it. A growing number of our Dive Bar guests does too, which is why we're constantly expanding our premium tequila selection. The spirit – which is distilled from the blue agave plant grown in the Central Mexico region of Tequila – opens new worlds of unique flavors and cultural appreciation. Best of all, tequila has quite a few surprising health benefits. According to recent articles like this:
Blue agave helps the body absorb calcium and magnesium, essential for bone health
Tequila is only 60 calories per shot, compared to over 120 calories in a glass of wine or 170 calories in a pint of Guinness.
Agaves contain high levels of inulin, which aids digestion, as well as agavins, which act as a natural probiotic.
Clearly, you should be drinking more tequila. But more importantly, you should be drinking GOOD tequila.
PaQui is my new favorite artisanal tequila. It's handcrafted in small batches from the hearts of 100% Blue Weber agaves grown in red volcanic highland soil, steamed in stainless steel autoclaves to release layers of aromas and flavors, and fermented using fresh wine yeast. It's this unique double-distillation and filtering processes that makes the difference, resulting in a remarkably smooth taste with none of the harsh burn that turns off most new tequila drinkers. Its Silvera is a young tequila with a big fruity taste of agave and undertones of citrus and spice. Reposado – 'rested' in former whiskey barrels of American oak for under a year – brings a really nice balance of fruit, florals, spice and light wood. The Anejo is aged for under three years for a buttery blend of white tea, cut grass, tangerine, vanilla and white pepper.  Any of these are exceptional to enjoy neat, and make excellent cocktails, too.
You're invited to discover it all for yourself when representatives from PaQui – which is an Aztec word that means 'to be happy' – visit Dive 106 for a tasting on Wednesday April 24th at 7:30. There will be tequilas for sipping, cocktailing, and sharing with friends old and new. You may even find your new favorite tequila, just in time for Cinco De Mayo. Because celebrating Mexican culture by enjoying Mexico's premium spirit represents everything a great Upper West Side neighborhood bar should be.
Cheers,