"Love makes intellectual pretzels of us all."

~ Sarah Bird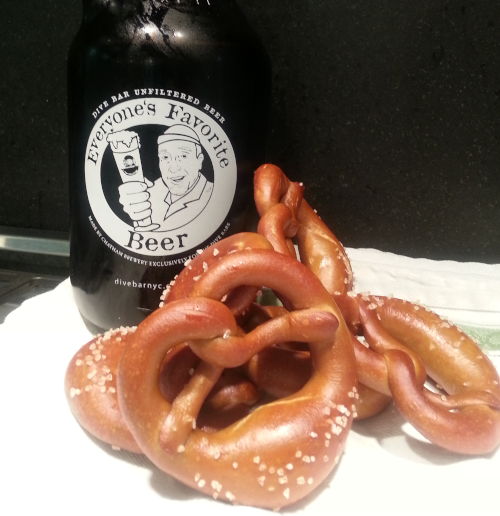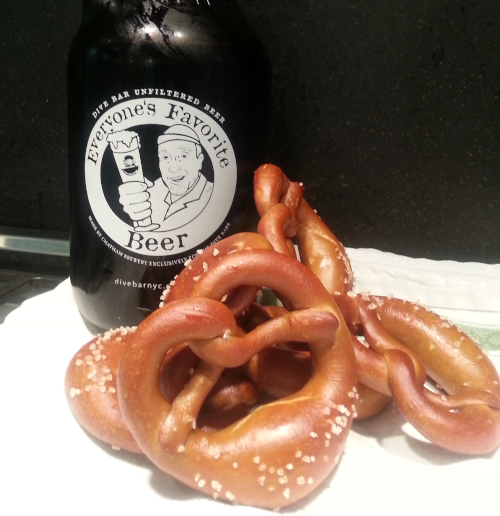 Who doesn't love pretzels? Whether it's a bag of crunchy pretzels with a beer at the bar, a soft warm pretzel with mustard from a street cart, or something pretzel-else entirely, pretzels are more than just the best of all salty baked snacks.  Cover them with chocolate, dunk them in cheese sauce, munch them as bites, sticks or rods; pretzels come in all different shapes, sizes, forms and functions. And at our Dive Bars, we are proud to endorse and embrace every facet of pretzel understanding and pretzel love. 
First, a pretzel facts lightning round: Though it's been claimed that Italian monks invented the familiar traditional pretzel shape to resemble arms crossed in prayer, other scholars have identified the shape as a pre-Christian Celtic symbol that represented the nooses used for three-way human sacrifices. The Latin terms bracchiola ("little arms") or pretiola ("little rewards") were most likely the source of the German word bretzel. In 1510, the Ottoman Turks attempted to invade Vienna by tunneling under the city walls. Monks baking pretzels in a monastery basement heard them and sounded the alarm. As a reward, the Austrian emperor gave pretzel bakers their own coat of arms – a lion holding a pretzel-shaped shield – which is still proudly displayed throughout the nation. In the 1600s, Swiss couples began incorporating pretzels in their wedding ceremonies, which is believed to be the origin of 'tying the knot'.
German, Austrian and Bavarian immigrants first brought pretzels to Pennsylvania's Susquehanna Valley in the 1700s.  But because soft pretzels became stale within a few days, these 'Pennsylvania Deutsch' (eventually mispronounced as 'Dutch') bakers began using less water in the dough to create a more cracker-like snack with a longer shelf life. In 1935, the first automated pretzel-twisting machine revolutionized the industry with its ability to twist 250 pretzels per minute. More than 80% of all hard pretzels are still made in Pennsylvania. Pretzel sales in America are now over $1 billion, led by the Snyder's of Hanover brand with sales of $378 million. And in the past four years alone, soft pretzel menu penetration in the U.S. has climbed 114%. 
All of which brings us to Alexis Farachi and The Bronx Baking Company.
I first met Alexis at one of the local Farmers Markets, and was as impressed with her soft pretzels and pretzel breads as I was with her attitude and vision. She'd started as a baker on City Island, but soon became obsessed with creating the perfect German-style pretzel. She researched histories and recipes, traveled to Germany to work alongside old-school bakers and developed her own dough formula for traditional Laugen Brocht, the lye-dipping/pre-baking process that safely causes proteins in flour to turn brown and creates the dark, crispy crust that makes a pretzel a pretzel. Within a year, she'd shifted her company's entire focus to pretzel baking and moved operations to a commercial loft near her home in the South Bronx. Today Alexis wholesales her pretzel products to craft breweries, wine bars, cheese shops and bistros throughout the five boroughs. We get fresh deliveries of Alexis' soft pretzels and pretzel breads, rolls and rounds every day, and I always love to smell them coming through our front door. This Grub Street article is only partially correct; not only does Bronx Baking Company make the absolute best soft pretzel in New York, these may be one of the very best pretzels you've ever eaten anywhere.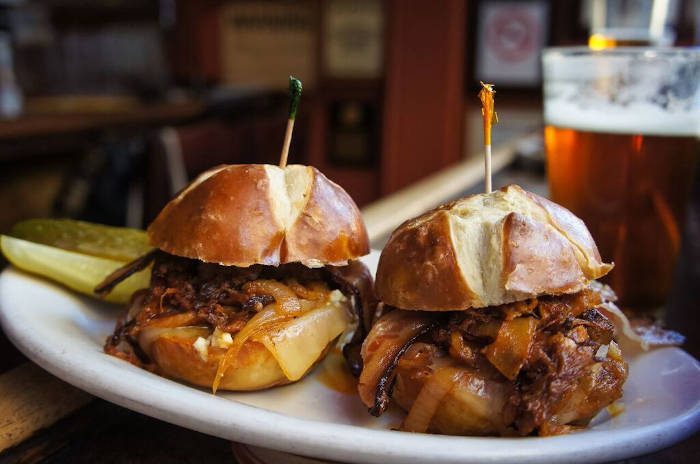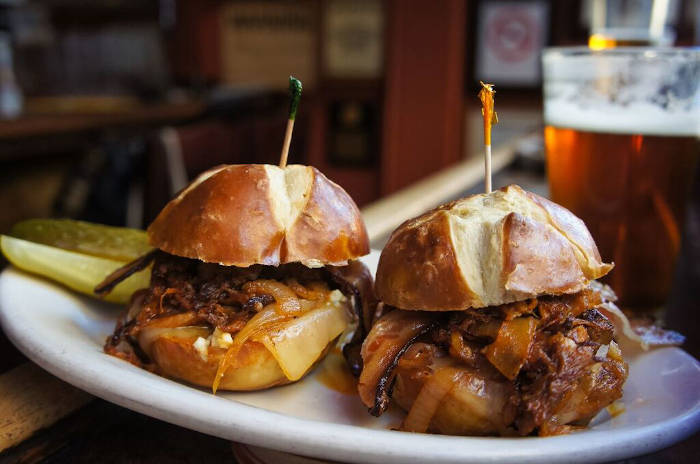 Take a look at our Dive 96 menu and you'll see us using Alexis' jumbo pretzel rolls for our hugely popular Muffaletta Pretzeletta Sandwich, Monster Pretzel Caprese Sandwich, Shrimp Po' Boys and more. Up at Dive 106 you can get a fresh Bronx Baking Company Colossal Pretzel, hand-rolled and modeled after the German Swabian style with a fat bottom and skinny arms. Enjoy it with mustard, but we highly recommend a side of Billy D's Famous Bacon Onion Dip instead. 
When you support local business, you're supporting a dream. For Alexis and Bronx Baking Company, her dream of creating the perfect pretzels and pretzel breads has become a delicious reality. At Dive Bars, our dream of being your go-to for good times with great food, beers, cocktails and friends is just as real. 
As always, you're invited to stop by and discover everything a great neighborhood bar – and some amazing pretzel bread sandwiches – should be. 
Cheers,