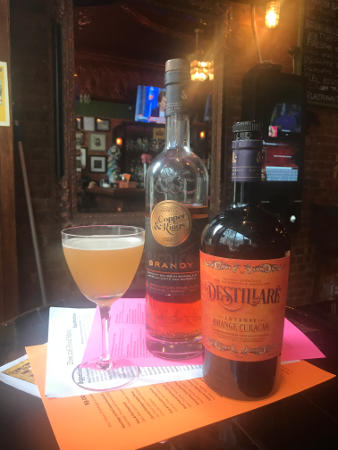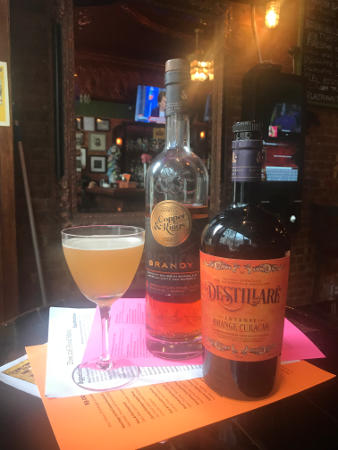 "From a simple inspiration of adding citrus juice to a traditional cocktail, the Sidecar changed the way bartenders looked at what a cocktail can be. Its trip to European bars refined it, taking it from a little known regional delight to an international sensation."
AlcoholProfessor.com
We're currently living – and drinking – in a golden age of Mixology, and it's a beautiful thing. It's in the pleasure you find in the sound of an expertly wielded cocktail shaker. It's in the experience of a good bartender with a well stocked bar, a headful of recipes and a skilled pour. It's in high-end cocktail lounges and smart neighborhood taverns everywhere. But what happens when a classic cocktail gets lost in the mix?
I love a good Sidecar. It's a relatively simple cocktail – 2 parts cognac to one part each orange liqueur and lemon juice, shake with ice and strain into a red wine or martini glass (old-school bartenders would also sugar the rim) – that's both sophisticated and delicious. Think elegant 1940s bars, The Ritz Hotel in Paris, or early evenings on a mossy Louisiana veranda. And because I believe in classic cocktail comebacks, you can add our Dive Bars to that list, too.
Requisite bit of cocktail history: The Sidecar is offspring of the 19th century New Orleans cocktail called the Brandy Crusta, which was a blend of brandy, lemon juice, orange liqueur, simple syrup and bitters. At some point in post WWI Europe – most cocktail historians cite the famed Harry's Bar in Paris – the recipe was simplified at the request of a U.S. Army Captain who always arrived in a motorcycle sidecar.
Our Dive Bar Sidecar starts with Copper & Kings, an American copper-pot craft brandy aged for two years in white oak Kentucky Bourbon barrels. We then add one part Destillaré, an intense orange curacao also made by Copper & Kings. We finish with a unique citrus twist, using Ripe Bar Lemon Sour made from cold-pressed eureka lemons and agave nectar. It all comes together with a terrific balance of citrus sweetness and tartness, while the brandy brings notes of wood, tobacco, dried fruit and mellow spice. It's our own take on a true classic, and a proud contribution to classic tradition.
Whether you're a longtime aficionado or just want to savor your very first one, stop by any of our four locations and try our Dive Bar Sidecar. Because in this golden age of Mixology, classic cocktails – like classic bars – will never go out of style.
Cheers,