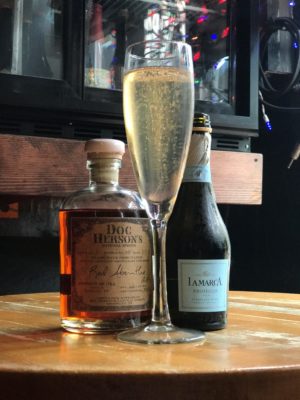 "Always do sober what you said you'd do drunk.
That will teach you to keep your mouth shut."
~ Ernest Hemingway
In 1935, Ernest Hemingway was invited to contribute to So Red the Nose or Breath in the Afternoon, a book of cocktail recipes by famous authors of the day. In response, Hemingway happily offered what he called his 'Death In The Afternoon Cocktail':
"Pour one jigger absinthe into a Champagne glass. Add iced Champagne until it attains the proper opalescent milkiness. Drink three to five of these slowly."
"This was arrived at by the author and three officers H.M.S. Danae," he explained, "after having spent seven hours overboard trying to get Capt. Bra Saunders' fishing boat off a bank where she had gone with us in a N.W. gale." The cocktail – which also came to be known as 'Hemingway Champagne' – quickly caught on, and is still enjoyed by savvy bartenders and sophisticated drinkers worldwide. And in honor of Hemingway's 118th birthday on July 21st, that includes our Dive Bars.
Absinthe is the wormwood-and-anise-based botanical spirit that became a favorite of early 20th century Parisian artists and writers ("Got tight last night on absinthe and did knife tricks," Hemingway wrote in a 1931 letter to a friend. "Great success shooting the knife underhand into the piano"). But because of its rumored reputation as a hallucinogen, it was banned through the United States and much of Europe until the early 1960s. Today this misunderstood spirit is making quite the comeback thanks to good folks like Doc Henson's, a husband-and-wife team making small-batch/all-natural absinthes from upstate NY grains in their Brooklyn-based distillery. We carry their green, red and white absinthes, all of which are ideal in our 'Death In The Afternoon' cocktails (rather than champagne we use excellent LaMarca prosecco) or simply over ice with club soda and a squeeze of lemon. All three are delicate, aromatic and soothing, with fascinating notes of citrus, hibiscus, fennel and other botanicals throughout.
Btw, dismissing Death In The Afternoon as 'that book about bullfighting' is like saying The Godfather is 'a movie about Italians'.
I don't recommend drinking 3-5 of these cocktails at a sitting, but you're invited to Dive Bar to enjoy 2 or 3 of them with friends. Or better yet, seated by yourself while reading any classic literature.
Because as Ernest Hemingway once wrote, "Don't bother with churches, government buildings or city squares. If you want to know about a culture, spend a night in its bars."
Cheers,
Lee