"Living in Upstate New York involves wasting one's time in a pickup truck driving 20 miles to buy a gingham dress or a Sears Roebuck suit. This rural thing – I'm telling you, it's a joke."  Ed Koch, 1982 Playboy interview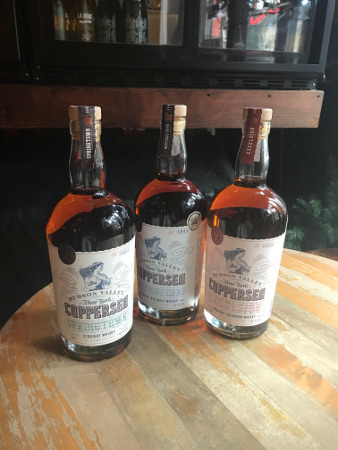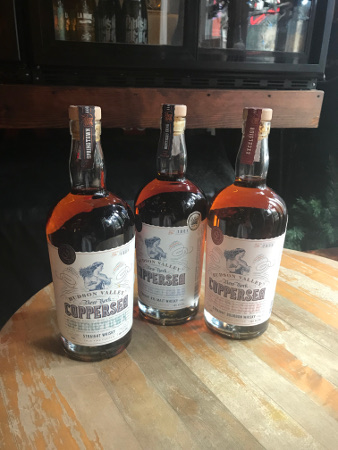 Take Interstate 87 (aka The New York Thruway) about 80 miles north to Exit 18, and you'll find the lovely village of New Paltz. Back in the early '70s when the population was no more than a few thousand, I used to visit there for various nefarious doings around the SUNY/New Paltz campus. The fact that I survived these exploits unscathed means I still have a soft spot for the town. The 17th Century homes of Hugenot Street are a lovely trip back in time. The forests, mountains and streams of Mohonk Preserve can be stunning, especially in the fall. The nearby Mohonk Mountain House – despite the rumor that it inspired Stephen King to write The Shining – is one of the most beautiful hotels in the country.  But my favorite new destination in New Paltz is the Coppersea Distillery.
In a time of increasingly industrialized liquor manufacturing, Coppersea is a true field-to-glass heritage distillery. Their grains are grown onsite at their 70-acre farm or sourced from neighboring farms. They use conventional techniques from the 1600's – including floor malting, milling and kiln drying – to prepare their mashes, then ferment them in 500-gallon open wood tanks. They twice-distill using open flame copper-pot alembic stills, a 17th century tradition that allows for unique complexities in the alcohol. Their whiskeys are bottled and aged onsite. Finally, the used mash is fed to their pastured pigs which are then turned into delicious chops, bacon, smoked hams and sausage for New York's best farm-to-table restaurants. They're taking both craft distilling and sustainability to whole new levels, and you can even take a tour and see for yourself.
Their Bonticou Crag Straight Malt Rye – named for the peak that overlooks their rye fields – is aged for two years, with mellow notes of clove and pepper. Their Excelsior Bourbon is made from Hudson Valley corn, rye and barley, and aged for a year in New York-harvested white oak barrels for flavors of vanilla, caramel and peach. Springtown Whiskey is an excellent blend of their own straight whiskeys that is as terrific in a Manhattan as it is sipping neat. Each one of these is 100% New York homegrown excellence.
We'll be doing a very cool tasting promotion on October 3rd with representatives from Coppersea, as well as specially priced flights – plus cocktails that include a Coppersea Manhattan – over the next few months at all four Dive Bars.  And if you really love them — and we think you will – our Dive 96 neighbor Elliot at Roma Wine & Liquors will be running specials on bottles, too.
Coppersea Distilling personifies everything I believe in: Tradition, craftsmanship, local sourcing, community responsibility and best of all, outstanding whiskeys. Stop by our Dive Bars and taste what true heritage is all about.
Cheers,