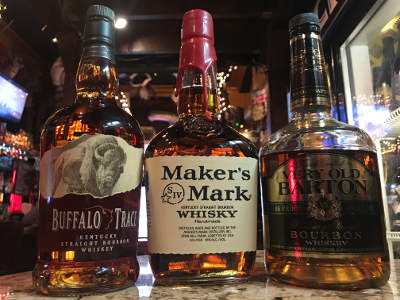 "The best thing about the Kentucky Derby is that it is only two minutes long. It is the quickest event in sports, except for sumo wrestling & Mike Tyson fights. Maybe drag racing is quicker, but I have never been attracted to it."
~ Hunter S. Thompson
"Kentucky has always said you can't really make bourbon outside of Kentucky because it's a combination of the barrels and the limestone-fed springs that give us the water. That's our story, and we're sticking to it."
~ Rep. John Yarmuth
The Kentucky Derby – aka 'The Run For The Roses' – is a 2km contest for three-year-old Thoroughbreds with the largest purse ($2 million) in horse racing. The first leg of the American Triple Crown, it is both a celebration of Southern culture and an iconic American sporting event steeped in 140+ years of tradition.
Bourbon is an American Whiskey made from at least 51% corn (with the rest being rye, wheat or malted barley), distilled to no more than 160 proof and aged in new charred oak barrels. There is no aging requirement for bourbon, but bourbon that is labeled 'straight' has been aged for two to four years. 95% of all bourbon is produced in Kentucky, where its production is soaked in nearly 200 years of tradition.
On the first Saturday in May at Louisville's Churchill Downs – as well as all three Dive Bars – the two come together for one terrific celebration. And because the race itself is only two minutes long, that leaves plenty of time for bourbon. As a bourbon aficionado, it's an ideal opportunity to showcase three of my favorites to drink neat, on the rocks or in a cocktail.
Buffalo Trace is one of my go-to full-flavored bourbons. Its nose brings notes of honey and citrus, while its palate delivers a mildly sweet taste of vanilla, toffee and oak. It's light and smooth, ideal for mixing or sipping. Buffalo Trace is distilled and aged at the oldest continuously operating distillery in the U.S., and its commitment to both taste and tradition is evident in every glass we pour.
Very Old Barton is far better than its affordable price would lead you to believe. In fact, with its oak and leather nose, velvety caramel/butterscotch palate, and spicy fruit finish, it's one of the very best classic bourbons you're likely to taste period. Though now owned by the Sazerac Company, it's been made for generations at the Barton Distillery in Bardstown, Kentucky and not always easily found outside of the region. It's not actually Very Old, but is certainly very delicious. We're proud to serve it.
There's good reason Maker's Mark is one of the most popular bourbons in the world. From its small-batch distillation (less than 20 barrels at a time) to its iconic red wax dip, its taste is as distinctive as its look. Made with 49% wheat rather than rye or barley, it introduces itself with a light wood and vanilla nose that opens to a palate of buttery spices and toasted nuts. It's smooth, sweet and easy to drink, making it a terrific bourbon for Derby Day or any day.
Join us on the afternoon of May 5th at Dive Bar 96th for events that include a Derby Hat contest, a special Derby-themed menu, bourbon specials, Mint Juleps, the truly amazing Kentucky Breakfast Stout and plenty more. Stop by Broadway Dive and Dive 75 for bourbons, cocktail specials and other surprises before and after the race, too. Because there's no better place to enjoy The Most Exciting Two Minutes In Sports than The Three Best Bars On The Upper West Side.
Cheers, y'all
Lee