"The highball, high priest of tall drinks, is nothing but spirits, ice, and water or soda, but its concoction is nonetheless governed by basic rules for bringing out the life flavor of its principle ingredient."

~ Esquire's Handbook For Hosts, 1949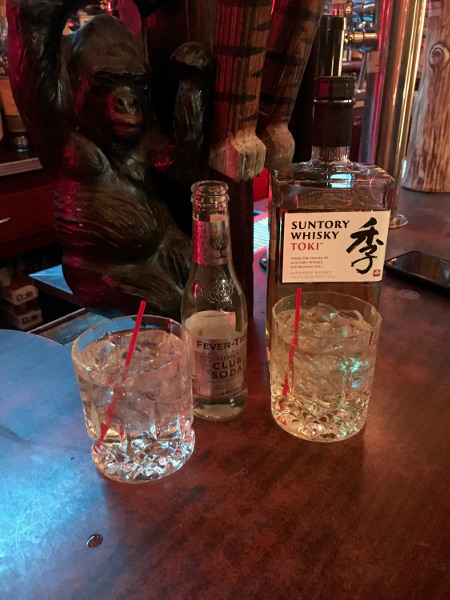 A highball is any cocktail consisting of a spirit and a carbonated mixer, served over ice in a tall glass. In other words, gin & tonic, scotch & soda, vodka & tonic, rum & coke, etc. are all technically highballs. Seems simple, right? But there's a big difference between pouring two ingredients over ice and making a great highball.
Depending on who you ask, the phrase 'highball' refers to either an old railroad expression – two short whistle blows and one long that represent two shots of liquor and a long pour of mixer – or a 19th Century British term for whiskey ('ball of malt') served in a tall glass. Most everyone agrees that the drink itself began with the invention of commercial carbonation – pioneered by Jacob Joseph Schweppe – in the late 1700s. And by the mid-20th Century, the rules of concoction were already in place, as the 1949 Esquire Handbook For Hosts instructs: "1) Use a tall glass, preferably uncolored, definitely sparklingly clean, admirably narrow-mouthed so soda will not collapse ahead of schedule. 2) Put in the ice – one very large or two normal cubes. 3) Next, pour the liquor over the ice. 1½ oz. is the average. 4) Only then pour in very cold sparkling water to the desired height. 5) Spare the spoon. The slightest contact with silverware squelches the bubbles, which do the mixing job unassisted. If your guests are stir-crazy, give them a plastic or glass swizzle stick."
My current favorite highball is a Suntory Toki & Soda. Suntory – the award-winning Japanese distiller for whom whiskey is as much a philosophy as it is a spirit – is a hugely popular brand for good reason (they're likewise a corporate behemoth who also own Jim Beam, Maker's Mark, Laphroaig, Courvoisier, Canadian Club and Sauza) Their Toki is an affordable blend made with snowmelt mountain water and Japanese grains, distilled at high altitude and matured in charred Japanese oak casks. It's an aromatic and complex whisky, with silky fruit, spice and floral notes. I use a chilled glass with two or three large ice cubes or spheres and – because the mixer absolutely matters – low-mineral/high-carbonation Fever Tree Premium Soda Water. It's a highball that's delicious, refreshing and unquestionably classic.
You can enjoy a Toki & Soda – or any of your favorite highballs – at our Dive Bars, where timeless cocktail traditions are always respected and indulged.
Cheers,
Lee