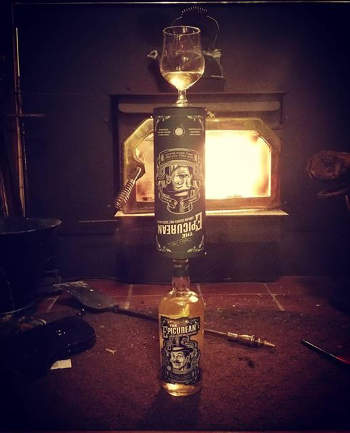 "Aye, but today's rain is tomorrow's whisky."
~Scottish proverb
I've never been to Scotland, but here are a few things I know for certain: Robert Burns, Sean Connery and Annie Lennox rule. Haggis is the soul food cousin of Jewish kishke, and I would probably love it. Golf, bagpipes and Halloween all originated there. I still have the legs for a kilt. And there are currently more than 100 licensed distilleries throughout the country creating the very best Scotch Whisky in the world.
Scotch is a malt or grain whisky that is distilled, matured and bottled in Scotland, and strictly regulated by UK Parliamentary statues – specifically the Scotch Whiskey Regulations 2009 – that legally dictates how the liquor must be produced, packaged and advertised. Among the rules are that its mash must be fermented using only yeast, aged in oak barrels for at least three years, and comprise an alcoholic strength of no less than 40% (80 proof). Fun fact: Nearly 40 bottles of whisky are exported from Scotland every second!
Legally, there are only five kinds – two types and three blends – of Scotch Whisky: 'Single Malt' and 'Single Grain' are each distilled at a single distillery. 'Blended' means a blend of one or more Single Malts with one or more Single Grains. 'Blended Malt' – also known as 'Vatted Malt' – is a blend of Single Malts that have been distilled at more than one distillery. And 'Blended Grain' is a blend of Single Grains that have been distilled at more than one distillery. 90% of all Scotch whisky sold in the market is Blended. And like fine wines, Scotch Whiskys are grouped by regions of origin whose distinctive soil, air and processing often define the spirits' characteristics.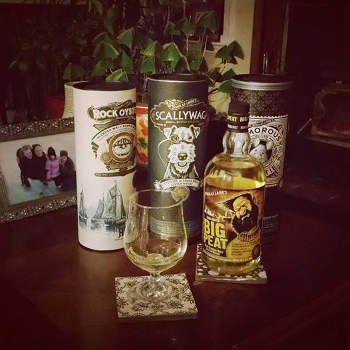 Douglas Laing & Company was established in 1948, and is one of a handful of family-owned distillers still making small batch and single cask artisanal Scotch Whiskys without coloring or the chill-filtration (which cosmetically removes the sprit's natural haze if served over ice). The 'Epicurean' label blends un-peated whiskys from the Lowlands – an area known for their barley – that delivers a rich herbal nose of peaches and hard candy with a surprising finish of almond and cut grass. 'The Timorous Beastie' – named for the Burns poem – is a Highland blend that boasts warm and spicy tones with notes of raisins and oak. 'Scallywag' is a blend of malts from Speyside – the region that also produces Glenfiddich, Macallan and Glenlivet – redolent of rich spice that includes vanilla, nutmeg, sweet tobacco and fruitcake. 'Rock Oyster' is Vatted Malt distilled on the Islands of Jura, Arran and Oakvey that tastes of soft peat, smoky honey, a bit of ocean and the moors. It pairs great with a salty Dive Bar snack like Epic Pork Rinds. Big Peat' is a fantastic blend of malt whiskys from the island of Islay that opens with an earthy splash of peat and barley, and finishes with a lingering tang of salt, licorice and bonfire smoke. Btw, the smoky flavor of certain Scotches originates from the peat fire over which the malt is dried prior to grinding and mashing. Believe me, the science of this stuff is as fascinating as its flavors. And if you want to explore the world of fine Scotches, the Laings are a great place to start.
We carry the full Douglas Laing line at Broadway Dive, along with plenty of other terrific Scotch Whisky. Stop by for a wee dram soon…
Cheers,
Lee