"Lord, I have loved some ladies and I have loved Jim Beam
And they both tried to kill me in 1973
When that doctor asked me, 'Son, how did you get in this condition?'
I said, 'Hey, sawbones, I'm just carrying on an old family tradition'"
~ Hank Williams, Jr., 'Family Tradition'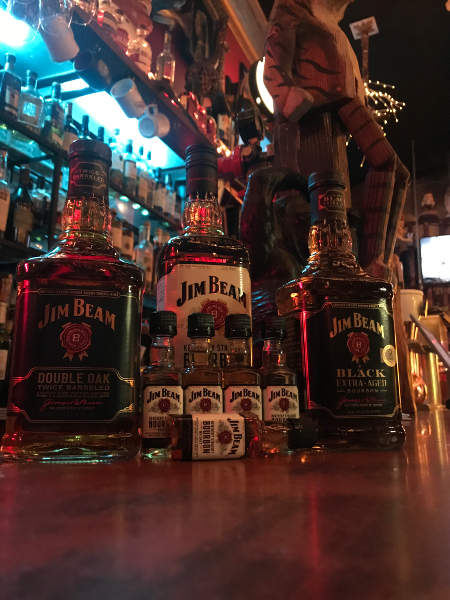 It's said that all bourbons are whiskeys, but not all whiskeys are bourbons. In fact, bourbon has been referred to (by a 1964 Congressional declaration, no less) as 'America's native spirit', and the current bourbon boom grows bigger every day. I first wrote about bourbons here, and the basics of actual Bourbon Law are worth repeating: Bourbon is a whiskey that must contain 51% corn, must be made in the United States (and generally in Kentucky), must be distilled at 160 proof or less, must be aged in new oak charred barrels at 125 proof or less, must be bottled at 80 proof or more, and must not contain any additional coloring or additives. And when it comes to taste, price and versatility, no Kentucky bourbon is more reliable than Jim Beam.
Jim Beam, founded in 1795 and overseen by seven generations of Beam family distillers, is the #1 selling bourbon in the world. In fact, it's said that Jim Beam currently fills 500,000 barrels of bourbon per year, with 14 million barrels – at 53 gallons each – since the distillery reopened after Prohibition. That's a significant amount of family pride and craftsmanship, a sizable chunk of American history, and a whole lot of excellent bourbon.
I consider Jim Beam's Kentucky Straight Bourbon – the classic 'White Label' – to be The King of Shots; it's mellow spice and corn flavor make it the perfect companion to a light crisp beer, which is why we like to feature it with a can of Miller High Life as a Shot & Beer Special. Go further, and its smooth-drinking citrus, vanilla and oak notes work great on the rocks, in highballs – try it with club soda, cola or ginger ale – or in any classic whiskey cocktail (A Kentucky Mule? Absolutely!). Their award-winning Black Label is aged 8 years (twice as long as White Label), which brings a slightly more robust spice and oak flavor. Beam also makes several ultra-premium bourbons, as well as small-batch favorites like Knob Creek. And while they're now a subsidiary of Japanese distiller Suntory, Beam remains decidedly American-based through its headquarters in Chicago and distilleries in Kentucky, where the brand's proprietary distilling, barreling and bottling are all supervised by Jim Beam's great-grandson.
At Dive Bars, we respect quality and tradition in equal measures. We treat our customers the very same way. Come in and enjoy a Jim Beam with us soon.
Cheers,
Lee