"France has neither winter nor summer nor morals. Apart from these drawbacks it is a fine country." ~ Mark Twain
"France is the only country where the money falls apart, and you can't tear the toilet paper." ~ Billy Wilder
"Dogs smoke in France." ~ Ozzy Osbourne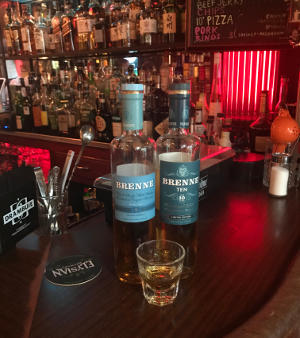 France is known for its many gifts to global culture, such as fine wine, rich food, excellent cheese, revolutionary kisses and conventional surrenders. But as strange as it sounds, you can now add 'terrific single malt whiskey' to that list.
Being a lifelong whiskey fan, I've written about whiskeys from America, Canada, Scotland, Ireland, Japan and even India. But Brenne Single Malt – from the most surprising place of all – is one of the most unique new single malts I've tasted in years. Brenne is made in Cognac, France, where they grow and harvest their own barley, cold-ferment the mash, and small-batch double-distill in classic copper alembic stills. It's then transferred to new French Oak casks for five years, and aged in used cognac barrels for two or more years. And because cognac is made from grapes – and technically a brandy – it imparts flavors that you would never expect to taste in an aged whiskey.
Don't let the cognac-cask thing scare you; these are in no way overly sweet but more like a single malt crème brûlée. The 7-year aged Brenne Estate Cask is light, smooth and airy, with notes of banana, vanilla, oak and clove. It's delicious neat, and a drop of water really brings the fruit flavors forward. Brenne Ten is a blend of four ten-year old casks that delivers a higher proof, richer flavors, and a nice bit of heat, too. It's excellent neat or on the rocks, and puts a great spin on a Manhattan or Old Fashioned.
Brenne is the vision of Allison Parc, a New Yorker, whiskey aficionado and former professional ballerina who invested her life savings in an idea that must have seemed, at the time, like a near-impossible sell to the industry. A decade later, her organic single malts are winning rave reviews and international awards. Allison is a hard-working entrepreneur who knows her business, and her blog 'The Whiskey Woman' is always a fun read.  
We're proud to add both of these Brenne spirits to our already formidable list of whiskeys at all four Dive Bars. If you're looking for a distinctive new seed-to-spirit single malt, your sipping starts here.
À votre santé,